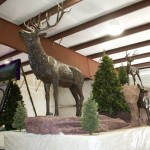 Thanks to the help of hundreds of volunteers, a number of businesses, and thousands of volunteer hours, the Town of Payson built a beautiful float which we entered in the Fiesta Bowl Parade. Prior to the parade, Channel 5 News in Phoenix featured a segment about the parade that also covered our float.
Be sure to watch the whole video so you don't miss the interview with Cameron Davis, Town of Payson Tourism Director.
It turned out that the float was more than just a beautiful parade entry, though – it was a big hit with the parade watchers also! After the parade, Mr Davis was informed that the town float won the Spirit of Arizona and Children's Choice Awards – the parade's top prizes!
Again, click here to watch the news video coverage of our float.