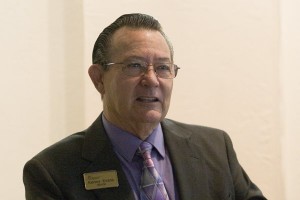 On August 25, 2012, Mayor Kenny Evans announced that discussions with Arizona State University will continue regarding the planned university campus in Payson.  A new business model for the campus, which has evolved from recent discussions with ASU President Michael Crowe, will more effectively meet the needs of both ASU and the Town of Payson, and can drive the process forward with greater speed and urgency.
The financial pro forma and funding for the campus complex will be revised and restructured. All of the elements envisioned for the campus complex, including a research park and business incubator, conference center, hotel, and light retail will remain in place. Importantly for Payson, the Separate Legal Entity structure for portions of the facility is preserved to protect the town from increased costs and insulate its residents from increased taxes.
"We worked long and hard at these negotiations with ASU. President Crow was able to step back, assess the big picture, and propose a design that works for all parties," commented Payson Mayor Kenny Evans. "The new model brings with it everything we wanted from the outset, and in some ways, will make the campus even more important to the town and the state of Arizona."
Rim Country Education Alliance (RCEA), the Separate Legal Entity (SLE) that has been engaging in the negotiations with ASU, will remain in place to oversee the non-educational aspects of the campus complex. 'The SLE structure is what ensures that Payson residents don't get hit with a tax bill for services needed on the campus site. This approach is critical for us," reported Mayor Evans.
Construction of the research park planned for the site may move ahead quickly, under RCEA's oversight. Three companies are interested in locating on the site in 2013, potentially bringing 100 professional level jobs to Payson next year.
"President Crow has shown us again what a visionary leader he is. Our corporate partners remain enthusiastic about our vision for a 21st century education experience here in Payson. Our community has demonstrated its support. Now we move to the next step in the process with a clean slate and a highly dynamic picture in view, " concluded Mayor Evans. "Our timetable remains in place, and I'm optimistic that with our focus, we'll achieve our goal of bringing students on site in 2014."