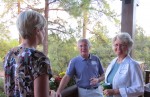 Rim Country Educational Foundation celebrated a year of fundraising success this week at a Donor Appreciation Reception. The reception was hosted Janet Vidnovic, Co-Chair of the Rim Country Education Foundation Fundraising Committee, and her husband, Nick, at their home at The Rim Club.
The one hundred largest donors to Rim Country Education Foundation were invited to the event, which was held outdoors under spectacular Rim Country skies. A host of volunteers assisted in serving an array of appetizers and drinks before a short session of informal remarks.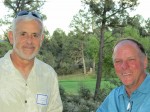 Laura Bartlett-Armstrong, Chair of the Volunteer Marketing and PR Committee, kicked off the presentations with a message of thanks to everyone in attendance. "If we haven't said it often enough, loudly enough, or clearly enough – – Thank You! You've made it possible for us to get this point in bringing a University Campus to Payson."
She likened the donors to investors who have invested in something they know well. "You know that Payson has the best weather in the state, the most beautiful scenery, and the most caring and giving people. Through your contributions, you've invested in creating opportunities in the future for our community."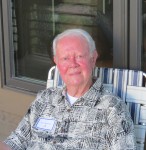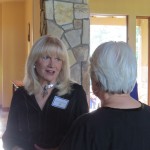 Over $190,000 was raised during the last 15 months through individual contributions, grants, and fund-raising events like the Oxbow Dinner Dance, the Polaris Raffle, and the Art Walk at The Rim. These funds were used to pay for environmental and archeological studies required by the US Forest Service to prepare the Sales Implementation Strategy (SIS) document. The SIS was signed by the Forest Service and approved the sale of the land to Rim Country Education Alliance to build the campus.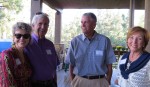 "Hats off to Richard Johnson and Janet Vidnovic, who led this effort from its beginning," cheered Bartlett-Armstrong. Thanks to the structure and support provided by the umbrella 501(c)(3) organization, Mogollon Health Alliance, only $4600 in expenses was incurred, putting as much money as possible to work for the campus.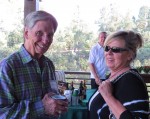 Judie Lyon, Chairperson of the Volunteer Committee, recognized the many volunteers who have contributed to this effort. She described ASU Football Coach Graham's approach to assessing talent. "He wants to see what is in your head. He wants to see what is in your gut. And he wants to see what is in your heart, " she relayed. "Thank you all for committing with your head, your gut… and your heart."

She described Mayor Evans as our Head Coach.
"He's going to get our team over the goal line!"