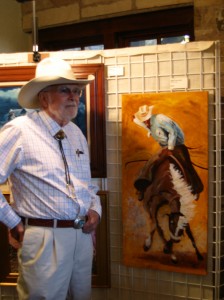 The local Payson artist community demonstrated their support for A University Campus in Payson over the weekend through "The Art Walk at The Rim."
Over 25 local artists exhibited a range of high quality pieces in a variety of mediums, and donated a portion of their sale proceeds to the Rim Country Educational Foundation (RCEF).
Each artist also designated a piece of their original artwork for a raffle, with the ticket prices also donated to the Foundation.  The event raised over $4000 on a recent Saturday afternoon at The Rim Club.
The array of talent was remarkable. Painters working in acrylics, watercolors, pastels, and oils showed works that ranged from contemporary, abstract art to western landscapes and rodeo scenes, many with a local flavor.
Jewelry artists also reflected local materials, with amethyst, silver, and copper pieces on display. Sculpture, hand-woven baskets, and hand-woven clothing designs stood out for the originality and colorful flair.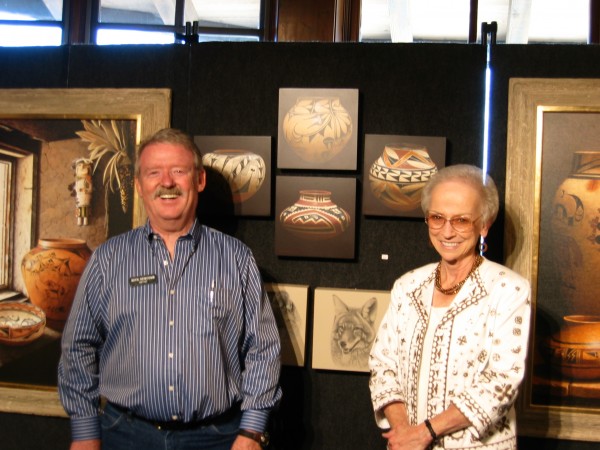 To round out the variety, spectacular Southwestern photography was on view in one corner of the exhibit, and an impressive collection of hand-turned wooden bowls was shown at other side of the hall.
Patrons previewed the artwork on Friday afternoon, made purchases on the following afternoon, and took home their raffle prizes on Saturday evening.
"We had a wonderful turnout ," reported event organizer Janet Vidnovic, who planned the Art Walk on behalf of RCEF. "We really appreciate Sally Myers and the 25 local artists who took the initiative by offering their time and their talents to support bringing a university campus to Payson."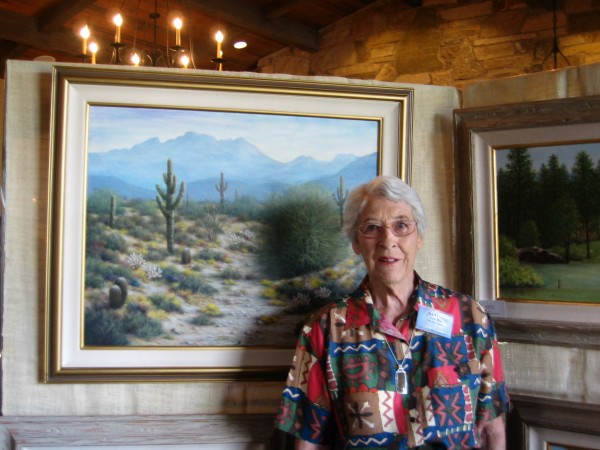 Mayor Kenny Evans addressed the crowd shortly before the raffle began with a brief update on discussions with Arizona State University. "We had meaningful conversations with ASU leadership, right in the corner where those beautiful, colorful paintings are set up right now", said the mayor. "We are moving ahead with the Forest Service Sales Implementation Strategy, on faith that through these fund-raising efforts and others, we'll have sufficient dollars to pay the expenses. The energy and enthusiasm of the community are making a huge difference in our efforts."
The Rim Club donated the space for the exhibit and refreshments. "We really appreciate Steve Loy, Phil Mickelson, and Black Buffalo supporting us in this way," Vidnovic concluded.  "Hopefully we can make it into an annual event."
Artists who exhibited included:
Patricia Allenbrand, William Ahrendt, Brenda Baker, April Bower, Emmie Derise, Bob Gleason, Don Harmon, Minette Hart, Leonard Kolb, Susan McIntyre, Sally Myers, Rock Newcomb, Conrad Ockerwall, Ruth Overton, Susan Palmer, Joseph Prow, Glenda Roark, Joan Savage, Pat Sessions, Georgianne Smolenski, Pat Stacy, Jim Strong, Larry Trotter, and Pat Williams.
About Rim Country Educational Foundation
Rim Country Educational Foundation is a designated fund administered by Mogollon Health Alliance's Board of Directors in accordance with the Foundation's stated mission of expanding higher educational opportunities in Rim Country.  The preferred method for contributions is via check.  Contributions can be sent to: Rim Country Educational Foundation, 308 East Aero Drive, Payson, Arizona 85541.