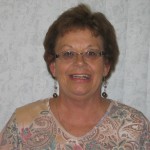 Paulette retired to Payson from the Ahwautukee area, where she lived for 30 years. Prior to that, she was a resident of Chicago. A volunteer at Payson Senior Circle, she's got a great laugh and a twinkle in her eye.
How do you think a 4 year university campus will impact Payson when it is completed?
We'll be a little larger town. We'll have better health facilities, which will be good. More positions will be available, though a lot of those may go to students. The town will grow, we won't be a sleepy little town anymore.
How do you feel the 4 year university campus might impact the business community?
We'll have increased sales. More employment. More new businesses will come here from the Valley, instead of us going to them. And we'll have more real estate sales.
I don't envision a direct personal impact on me. We'll have more shops. I may not like having more crowds, more activity, more tourists. But I have no problem with it. It will be good for the community.