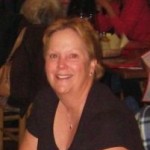 Renee resides in Strawberry. She's lived in Payson part-time since 2007, and full-time for the past year and a half. She retired to the Rim Country after living in San Diego for 53 years. She volunteers at Payson Senior Circle, and she's got a great big smile.
How do you think a 4 year university campus will impact Payson when it is completed?
More jobs. More shops. More traffic, but that won't be a big deal. The campus will draw people here, people who will stay and help the economy. Students will transfer here from the Valley. Hopefully we'll have better transportation, like buses or shuttles.
How do you feel the 4 year university campus might impact the business community?
Hopefully it will be a big plus. We'll need more shops for students, and this will create some competition. It will give some boost to the economy of Rim Country, rather than people going down to the Valley all the time. And our property values should go up.
I don't see a lot of direct impact on Strawberry, and I don't mind more crowds or a more traffic. I feel we'll be a more rounded community, and we'll be able to keep our young families in the area, instead of having them leave for Phoenix. That's our problem now, all the young people have to leave. The campus will help revitalize the community.