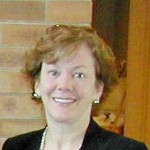 Janet's interest in education and small town universities began at a young age. As a child she enjoyed growing up in a college town. After her father earned his PhD in Electrical Engineering from Carnegie Tech, he moved the family to Ames Iowa, where he taught at Iowa State University.
Janet graduated with a B.A. in Economics from Rice University, earned her MBA from Carnegie Mellon University. Currently, she is a Chartered Financial Analyst. After business school, she worked in corporate planning for J. Ray McDermott in New Orleans and in pension asset management for Rockwell International.  Janet has managed the portfolio of a wealthy Pittsburgh family for the past 25 years and is also a state registered investment advisor in Pennsylvania and Arizona.
Janet met her husband, Nick, at Carnegie-Mellon.  They raised their two children in Peters Township, PA where Janet served as member of the Planning Commission (9 years), Town Council (1 year) and Parks and Recreation Board (5 years).  She co-chaired the fundraising campaign for the Peters Township Library in 2007.
Janet and Nick moved to Payson in 2010 after both kids graduated from college.  They enjoy hiking and the outdoors and Janet is learning to play golf.  She hopes that Payson will be a college town very soon.