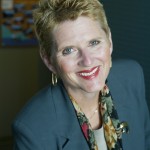 Mayor Evan's vision for the campus and his commitment to making it a reality inspired me and motivated me to assess how I could make a personal contribution that would be valuable.  I joined the Volunteer Committee in the fall of 2010, and have been impressed by how much a small group of individuals has been able to accomplish.
My expertise is communicating with people —  whether in person, in writing, or over the internet. Ensuring we deliver a clear and consistent message regarding the campus and its benefits to the community is a central part of what I hope to accomplish. — Laura Ann Bartlett
Laura Ann Bartlett has a demonstrated track record of success in marketing and sales over the past twenty five years. Her broad experience encompasses business development and marketing management, particularly in the areas of employee benefits consulting, corporate pension plans, and institutional investment product sales.
Ms. Bartlett led the business development efforts for a major Silicon Valley insurance brokerage and consulting firm, enhancing cross-selling results across multiple product disciplines. She has also managed integrated sales and client services groups, built closely integrated teams, and designed effective business practices.
Ms. Bartlett has led product development initiatives, business process re-engineering (BPR) projects, and web implementation and upgrade projects. Her client experience runs the gambit from Silicon Valley start-ups to Fortune 1000 companies.
In her current position at Wells Fargo Institutional Retirement and Trust, Ms. Bartlett leads the bank's sales effort throughout the Western United States in the jumbo corporate retirement plan market, focused on the largest employers in the territory.
Ms. Bartlett has also been active in several women's leadership forums, including the Women in Pensions Network, Women in Employee Benefits, and AZTC Women in the Workforce.
Ms. Bartlett received her B.A. in English from Southern Illinois University and her M.B.A. from the University of Illinois-Chicago.