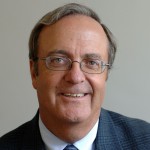 Paul Brocker brings 40 years of public relations and marketing experience to the Marketing and Public Relations Committee.  His background includes almost 30 years in higher education as well as 10 years in both corporate and sports marketing and communication.
Mr. Brocker  retired from Regis University in Denver in 2010 where he served as Associate Vice President responsible for all University Communications for 22 years and Executive Assistant to the President for three years.  Mr. Brocker began his career in higher education at the University of New Mexico where he served for two years as Assistant Sports Information Director, followed by two years at the University of Denver as Sports Information Director.
Prior to entering higher education, Mr. Brocker held the position of Vice President for Public Relations for six years at First Interstate Bank of Denver.
Mr. Brocker also had brief stints as a sports writer with both the Augusta Chronicle Herald in Georgia and The Denver Post and was a Staff Writer for Army in Europe magazine in Heidelberg, Germany during his military service.
Mr. Brocker earned his Bachelor of Arts in Journalism from Colorado State University and his Master of Arts in Liberal Studies from Regis University.